Artist Spotlight: Reef Sithole
Category

Community

Date

27.07.22

Author

Jack lemkus online admin

Read Time

5 MIN
We are excited to announce the first edition of our new artist series for our home, the Exchange Building. We couldn't think of a better way to amplify our heritage building than by collaborating with young, contemporary South African artists.
Through purchasing different works and hanging them in the building, we hope to pique the interest of our community in the exceptional talent of artists across the country - while supporting and valuing their work, shining a light on their integral contribution to culture and creativity.
Our first artist in the series is Reef Sithole. As a painter, Reef's style expresses his diverse palette of interests and references - from the surreal to the realistic, across pop-culture and drawn out his own lived experience. Hailing from Soweto, a central part of his vision is to see skill sets around art become accessible in townships, knowing that creativity is a vital remedy for creating a better life. Inspired by titans of contemporary art like Basquiat, Matisse and Warhol; Reef is a key figure in shaping the language of South African fine art in 2022 and beyond.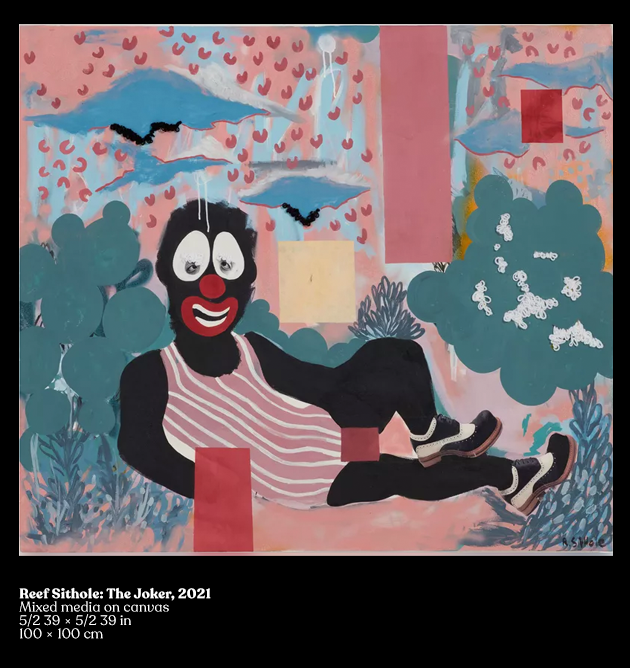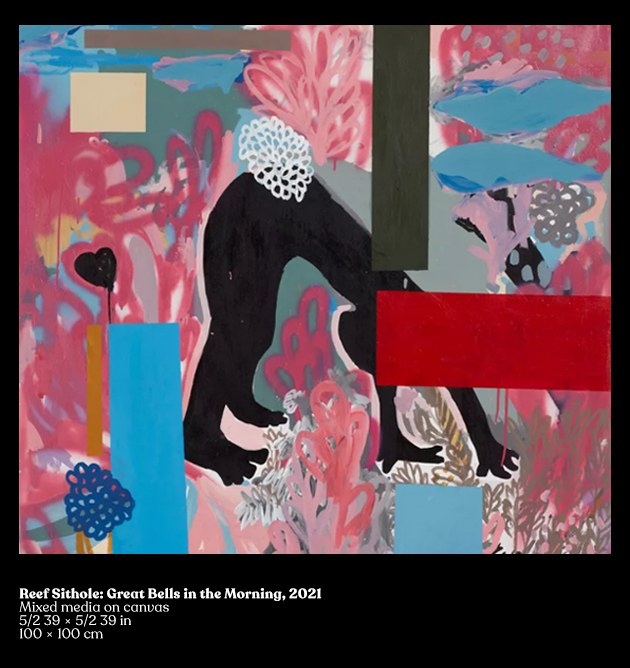 The Works:
The Joker: A man in a black suit whose influence spreads through comedy. Often times, he enjoys making people laugh to forget reality. But the truth remains, no one really likes him.
Great Bells In The Morning: Youth reeks as this adolescent enjoys their freedom in a colourful world where worries don't exist. But what does exist, is the bell of reality. Each ring being a reminder of what actually is and what is not, and slowly the world becomes Great.
The Artist: Reef Sithole
My background as an artist and creative practitioner is: I'm a fine artist from Johannesburg. My style of work is contemporary neo-expressionism infused with pop art and surrealism, pulling strong references from my rough-yet-unique upbringing in Soweto. The dichotomy of what Soweto is, is largely what inspires my work till today.
I also produce a wide scope of multimedia visual art, exploring nuanced digital design themes, techniques and usage of soundscapes. Eventually enrolled at the prestigious National School of The Arts, by the tender age of 8, I was already engaged in art classes by my parents. With the inherent ability for draughtsmanship, art was always encouraged as an avenue away from the hotbed for drugs and violence which exists in Soweto.
My accumulating gallery experience includes Artist Residency with The Fourth (2021), Death Row Dinner (2021), Fede group exhibition (2022) and Cape Town Art Fair (2022)
The stylistic considerations and mediums that inform my work are: My work is essentially an amalgamation of niche techniques, such as stitching, infused to create a completely new style. It feels extremely inspired; like a proposition for a new way of painting. And within this work, you can see the influence of legendary artists such as Basquiat, Bacon, Matisse & Warhol, and more.
I'm a punk at heart, and that's what resonates through my paintings. I experiment in digital design and soundscapes, unlocking two alternative career paths as a reputable graphic designer.
My vision for the arts and culture in South Africa is: To see more creative workshops in the townships , and building more space for everyone who wants to be in the art scene. I'm especially interested in seeing workshops about the business of art happen; how to sell your work and market your work as an upcoming artist. I think that there is a big need for artists to learn the same skill sets that any other entrepreneur might need to.