Bubble Koppe for Obscure Archives
Category

Community

Date

22.03.22

Author

Calhoun matthews

Read Time

5 MIN
Justin Ronné is the Godfather of Nike Air Max in South Africa - if not the World. It takes an incisive kind of discipline synthesized with unrelenting passion to draw one's love for a particular kind of sneaker into what he has; as the cultural archivist and founder of the Bubble Koppe community.
The word "Bubble" representing the visible Air Max units in the Nike sneakers and "Koppe" originating from Afrikaans for 'heads' - a true Cape Town expression - describes what it means to be an Air Max connoisseur in the Mother city. In celebrating both Air Max Day and Bubble Koppe's 11th anniversary (23rd March), the 26th of March sees Justin showcasing a very special Obscure Archives with us at The Stockroom; calling on his community, which includes Lemkus' very own creative head Calhoun Matthews, in showing a clear collectors timeline of the running lineage of Air Max as well as a section dedicated to basketball, training & baseball.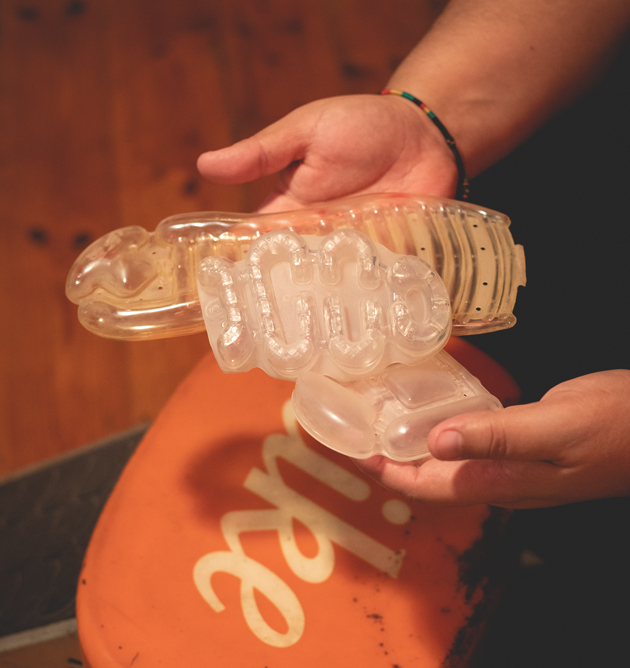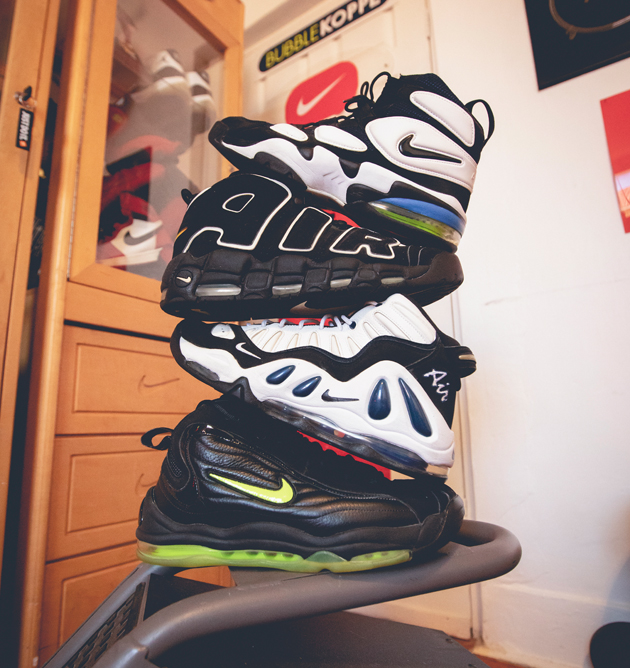 Justin remains obsessive and meticulously aware of almost everything about this trend-defying technology originating out of Portland, Oregon USA in the late 1980s. In fact, the first prototype of the Air Max was made in 1986; the exact year Justin was born, and one such synchronicity that further forges Justin as the Godfather - the head of the family that breathes in every aspect of this shoe - curating and disseminating the rarest forms that this style has taken shape. Justin trained as an architect and designer - so his penchant for exceptional design moves expertly between aesthetic, technical and functional precision, and this is encapsulated for him in the translucent "bubbles" that cushion the sole; one of the most infamous technological and engineering emergences to ever come out of sneaker design in the last few decades.
While Bubble Koppe boasts over 65 000 followers on Instagram - it started as a humble Facebook group in 2011, a grassroots movement to connect with other 'Bubble Koppe' in Cape Town. It's personal for Justin; the growth of this space, and much like Virgil Abloh's statement that everything he did was for his 17 year old self, Justin says "I do this for my eight year old self. I grew up in the 90s idolizing basketball - my heroes were Michael Jordan, Charles Barkley, Scottie Pippen and the likes. I used to record "NBA Inside Stuff '' on VHS tapes - it was this iconic show that went behind the scenes looking at the basketball phenomenon. This was a special time, before the internet was close to anything that it is today; and the undeniable connection between basketball players and sportswear was really deepening in the collective consciousness. To try to be like them, or embody that type of greatness and skill, sneakers were the obvious link in order to do that. We didn't have anything like we have today with this appearance of closeness to those who we idolize - it was channeled through rudimentary media and mediums, the information we received came through the TV, posters and basketball cards, so the sneakers they wore became of a symbol of connection`
Nike soon became the apex of this connection for Justin; although a newer brand than Reebok, Adidas and even New Balance, Nike had established itself as a nexus for innovation; and the 90s was the decade when the relationship between sporting functionality in design became commonplace for engineering products for the masses. Justin reminisces on this,
"The shoes we saw coming out of Nike were futuristic, truly. I begged my parents for a pair - not even Air Max, but just any swoosh-related sneaker that was possible for them to get for me. I was 10 years old, and I got my first pair - the Air Screech (Calhoun Matthews' first pair as well). I think only people who lived through that time would know how amazing it was; to be there before the mainstream sneaker collecting movement. This is before reselling and hype took over sneaker culture; it was really raw and unfiltered. I think Air Max captures that nostalgia for us in the Bubble Koppe community."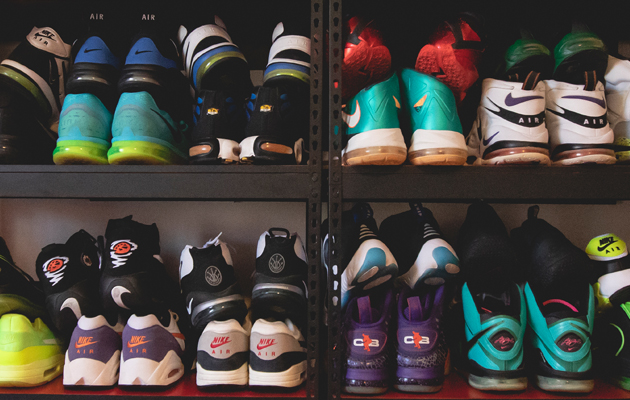 It's one thing to be a collector, but Justin has taken it further - amassing a global respect for his curation of the rarest images and moments surrounding Air Max culture since the late 80s.
An image was sent to Justin of a Bubble Koppe post on the wall at Yeezy headquarters, Bubble Koppe was mentioned on Full Size Run, one of the biggest and most popular sneaker tv shows produced by Complex media and he has had followings from numerous celebrities, icons and artists - members of the A$AP Mobb have interacted on his page as well as Nike designers. The whole idea behind Bubble Koppe can be traced back to a moment in 1997 in Kenilworth Center, a mall in Cape Town - at the movie theater stood some arcade games (now torn down); "I saw this kid wearing this out of this World pair. I had never seen such crazy sneakers - he was wearing the OG Air Total Max Uptempo "Neon", the epitome of plush-meets-technical synergy. It's still my favourite bubble of all time - and I herald it to this day. I don't know if many people notice, but the colourway of the Bubble Koppe branding is an ode to that shoe; the black with the volt colour, which is a Nike specific neon yellow-green."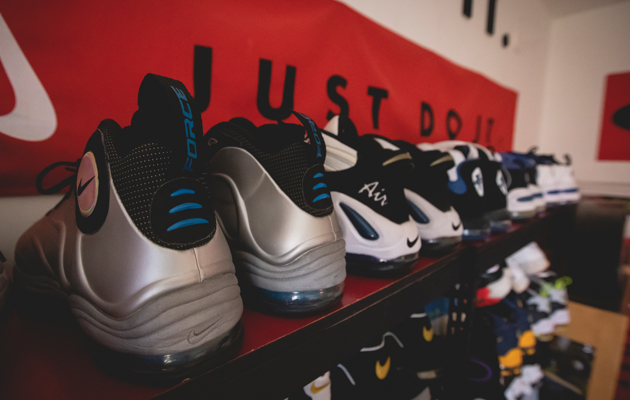 The technology of Air Max cannot be understated, and Justin's archival position takes an educational form as he says "It's unique footwear - there's nothing else quite like it, the original pair came about as part of a running cushioning idea, when Nike founder Phil Knight took a chance on the engineer who brought the idea to him. Phil started out as a runner, so the efficacy of the sole was personal for him, and when aero-nautical engineer Marion Frank Rudy brought the idea of a pressurized gas bladder to modify the comfort and ride inside the sole of a sneaker, Phil tested it out himself on a run.
The rest is history, and I think that commitment to innovation is what makes Nike the brand that it is to this day. With the Air Max, seeing through the sole is just a fun aspect - I think it's the whole essence of its founding story that makes it so compelling - it's based on rebellion." In a World where technology and trends seem to die as fast as they are born, Justin's consistent celebration of the Air Max is worth deep respect from all of us in the country. At Lemkus, our vision is only furthered by people like Justin; a pioneer, for whom we believe the story has only just begun. Lastly, Justin offers us insight into our own position as Cape Tonians; "I really believe Cape Town is one the sneaker capitals in the World. It certainly is in Africa, but I think our contribution to sneaker culture is undeniable. I think the vision for us is to continue gaining the recognition for this - and I am grateful to have the opportunity to have worked with Nike, and to be invited to talk and showcase in various capacities. My dream is to get to Global (Nike) and to design our own Air Max for Cape Town - a collectors pair as a gift to the community of sneakerheads that I was born into, that encompasses so much of our heritage and love for Air Max in this city.