Obscure Archives | Das Kapital
Category

Community

Date

14.08.21

Author

Calhoun matthews

Read Time

5 MIN
Sneaker culture is synonymous with street culture, and Lemkus sits at the intersection both physically and socially as a space to merge creatives with community connection. This series is a sneak peek into our community members' collections, intended to amplify hype around what it means to be a sneakerhead in the beautiful Mother city.
We invited Kyle Brinkmann, AKA Das Kapital, to share some insight into his most coveted pieces from his enviable archive; and as a DJ and creative director, DK continues to be firmly on the pulse of culture – as it unfolds and is expressed through both music and fashion.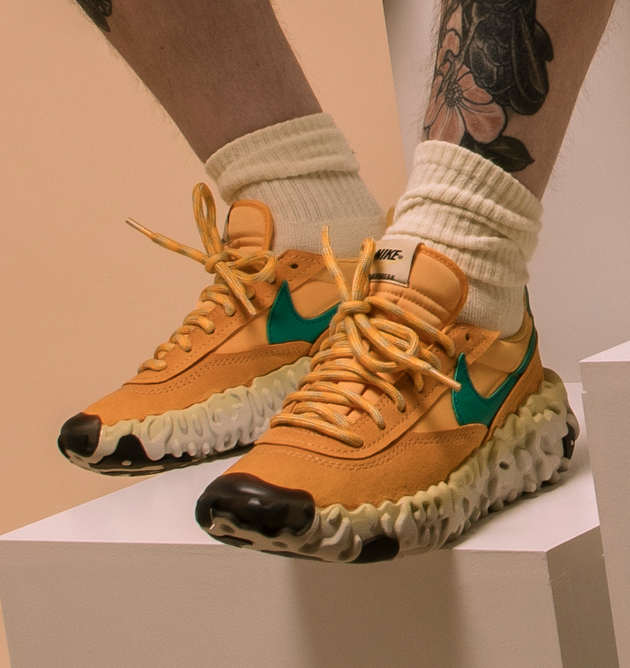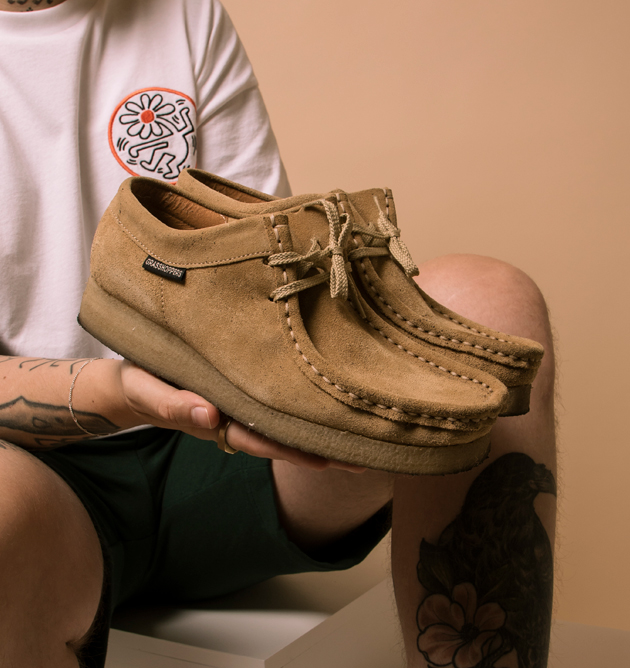 CLASSIC PAIRS: NIKE AIR MONARCH IV / NEW BALANCE x AIME LEON DORE BB550
''As norm-core and dad-core came in, a lot of people slagged off really great shoes just because they weren't what they were used to. We are watching the window shift now globally, although South Africa tends to be a bit slower than expected, from the very tight, overly athletic fits; we are finally watching that looser silhouette come back. As that happens, we are seeing fashion move from being a "look" to being a functional necessity that we need to draw on daily. In saying that, the Air Monarch is the quintessential shoe that represents that to me. It is the most reliable sneaker price wise, fit wise and style wise; it's stasis is almost comforting in that sense. You can almost always get for 30% off at outlet stores around the city. Even though it tends to be a "meme" shoe – total dad vibes – I would dare anyone to wear a pair for a full day, and report back on how crazy comfortable it was. It's chunky, it encapsulates the foot, it looks great with the current shift into looser fits."
''I personally feel that everyone should own a pair of New Balance. They are on the rise globally, and they are working with some of the most interesting spaces in fashion – putting out some incredible collaborations– I mean Salehe Bembury from Versace is constantly doing NB drops of an astounding standard. The pair I am sharing is an Aimé Leon Dore collaboration, which is specifically made in the USA – this sparks a whole conversation around localising manufacturing in sneaker production, which I think is a really important consideration as a sneaker collector. It has this modern Americana feel, which is classic in itself. It's a brand that people tend to overlook here because it seems cheap; but shifting away from monetary value as being the "clout driver" is so necessary. Final words? Clean and elegant.''
HYPED PAIRS: PUMA X ATMOS CLYDE / W AIR JORDAN 1 PRM "PALE IVORY"
I think we are understanding more and more that sneaker stores represent a lifestyle – it's more than just a place to go and buy a shoe or clothing. We see it at Lemkus, where culture is developing around a central space. Atmos is from Tokyo, and they have done some amazing work throughout the globe – and this collaboration with the Puma Clyde is historic. It merges this incredible decisive Japanese design aesthetic and imprint, with the historic nature of the Clyde as being the first endorsed sneaker in the 1970s; which speaks a lot of the pre-Jordan era. I can just throw it on at any time, while knowing it represents something so much deeper and more meaningful. As someone who is heavily tattooed, the influence of Japanese traditional tattooing ties into it too. It's just really refined, and incredibly special.
For years, early on in my music career, I was kind of quite pigeon holed and wasn't paying attention to other brands. I had owned Jordans before, but I had qualms with them, and deciding to give the Air 1's a chance ends up being quite a funny story. One of my best friends had this pair, while I had a couple of other pairs that I considered to be holy grails of sneakers. I couldn't wear them because I loved them so much. Beginning this journey to becoming this all-consuming fashion curator that I consider myself, I realised that while I lived said pairs – I was never going to wear them, but I knew Dean would. So we traded this whole deal, and one of the ones I received was this pair. They're a premium model, with incredibly leather, but the best part is – because they are a grey and white Jordan 1, every single time Nike releases a sneaker in grey and white, they shoot up in value. Like, an insane amount of value. That includes the Dior 1s…some sizes are a minimum of $2000 now. It's like my heirloom sneaker, and Dean will honestly never let me forget it.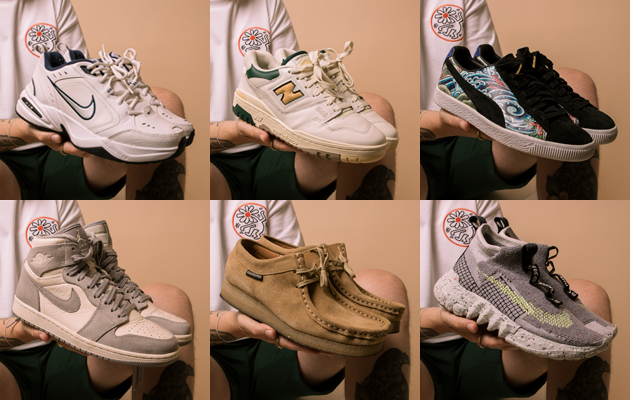 WILD CARDS: GRASSHOPPER SUEDE MOCCASIN / NIKE SPACE HIPPIE 02
It's a shoe that we don't give enough props to, but is wild to me as a shoe that literally distils so much of Cape Town generational youth into one shoe. I was introduced to this shoe at Westerford High School – shout out – and as a very white boy in a really multi-cultural friend group. Grassies are locally made, and they work with really great local tanneries – and I personally feel they do so with enough flare to be their own unique expression of a fairly analogue silhouette. I love the local identity that they showcase, all in really muted and pared back colours – super wild when thinking of a "sneaker", but really just classic to every collection in Cape Town.
I am huge fan of the whole Space Hippie generation; and I'm super excited about what Nike is doing in general with sustainability. This pair is made of recycled yarn, the outsole is made of Nike grind which is like a compression of excess rubber, and the insole is incredibly well engineered foam. I won the lottery with this pair, because I got them at a time when things were tricky with COVID19 last year – and they just represent a whole new futuristic landscape for footwear in general