Nike + Basketball 'The Art of Performance'
Category

Releases

Date

16.11.23

Author

Jack lemkus online admin

Read Time

5 MIN
What do we mean by 'the art of performance?' Well, crafting a basketball shoe is a meticulous process. It requires an incisive blend of ergonomics, focused on performance and design tailored to meet the dynamic demands of the basketball court.
Perhaps, then, it speaks to the mastery of this process by Nike, that their basketball-oriented sneakers have gone on to dominate the cultural scene for the last 50 years: seeding the notion that high-performance extends beyond the court, and is a necessity required by all professions and aesthetes.
At Lemkus, with our focus on creativity, our high-performers are the members of our incredibly talented network of creatives, who are shaping culture in the country and beyond. It only makes sense that with Nike's streamlined drop of some of the most iconic basketball silhouettes, we had to call in our very own athletes - to showcase the symphonically balanced iterations held together by a colourway across Hemp, Baroque Brown and Coconut Milk.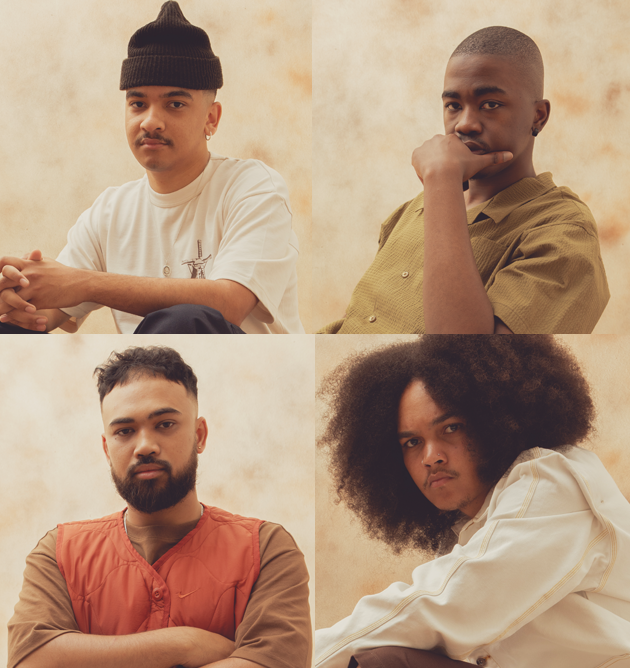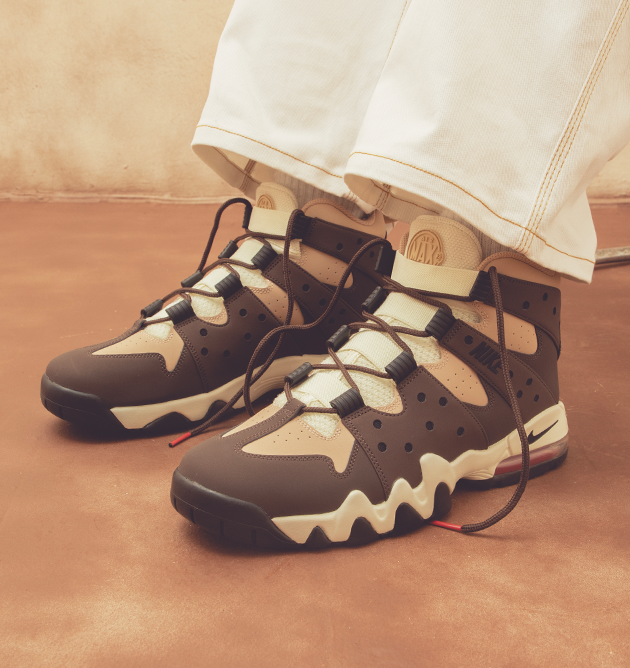 Sneaker: DUNK HI RETRO SE - Player: Chad Anthony
Few artistic crafts are as relevant in the digital age than graphic design. To visually communicate, with pixels as your paint, is one of the most critical components to world-building for brands. In this respect, Chad Anthony is a player for the age - with his design-led thinking suffusing the visual identities of brands like Broke and Acid Restaurant and Wine Bar as contemporary artistic feats, dripping with nostalgia.
Chad is our player for the Dunk Hi Retro SE - a sneaker that exemplifies Nike's commitment to blending heritage with contemporary style. A revival of the iconic Dunk High silhouette from the '80s, this Special Edition (SE) iteration captures the essence of retro basketball fashion while infusing modern design elements. The sneaker features a high-top profile and provides ankle support that resonates with all high-performers, everywhere.
Sneaker: AIR MAX2 CB '94 - Player : Otsile Moumakoe of Vtsek.Studios
Otsile Moumakoe is the founder and creator of VTSEK. Studios - one of the most intrinsically South African, cultural and digital archives. Born from Otsile's diet of American pop culture and penchant for photoshop, his digital art portrays figures like Madiba or BROKE alongside Tupac or Virgil Abloh; a true fusion of American culture through a South African lens. As a creative player, Otsile scores exceptionally high in his ingenuity, as one of the principle builders of South Africa's digital expression in the 2020's and beyond.
So, Otsile was perfect for the Air Max2 CB '94 : a cultural classic, synonymous with the larger-than-life personality of its ambassador, Charles Barkley. Launched in the mid-'90s, this sneaker reflects the bold and robust style of Barkley's style of play: featuring a distinctive, chunky silhouette with a prominent midsole. With Air Max2 technology in the sole providing unparalleled cushioning and support, the Air Max2 CB '94 has left an indelible mark on streetwear and sneaker culture. Much like Otsile will continue to do.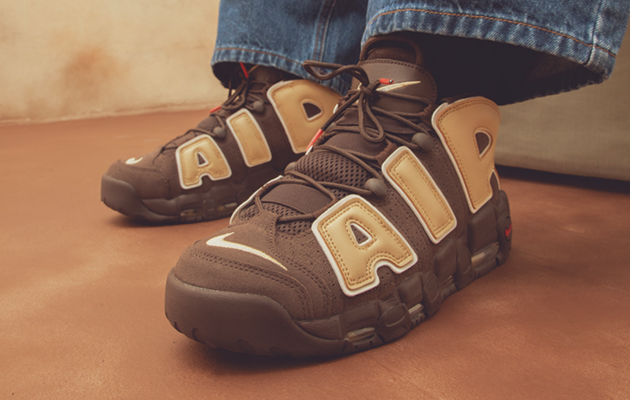 Sneaker: AIR MORE UPTEMPO '96 - Player: Ziyaad Samsodien - Flying Duck Design
Ziyaad Samsodien's Flying Duck Design is one of the most important illustrative forces in South African creative culture. Ziyaad's observational skills are a foundation for portraying his influences across local brands - expressing cultural epitaphs with a distinctively playful, caricature-style finesse. Observational skill sets are paramount for on and off court success. So, Ziyaad is embodied by the Nike Air More Uptempo '96, an iconic sneaker that gained prominence during the mid-90s basketball era (arguably the best era).
Revered for its bold design and distinctive features, the shoe is noted for its large "AIR" lettering on the sides, dominating the upper with a unique aesthetic. Originally worn by basketball legend Scottie Pippen during the Chicago Bulls' historic 1995-96 season, the Air More Uptempo '96 became synonymous with on-court excellence as well as off-court style. Its chunky silhouette and visible Air Max units exemplify the nostalgic style trends of the time, capturing the spirit of 90s street fashion - with 90s style trends seeming to be perennial to our own tastes during the 21st century.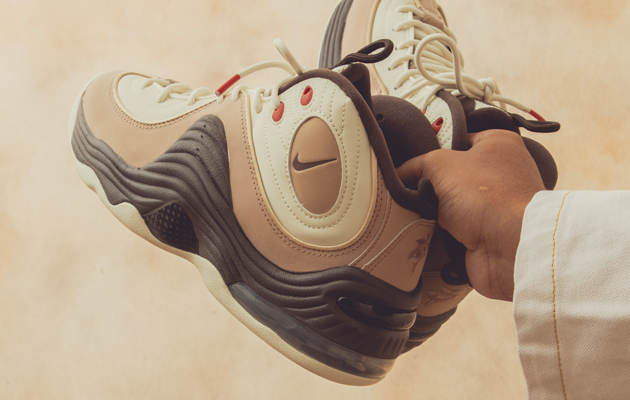 Sneaker: AIR PENNY II NAS - Player: Jesse Jewelzzz
Jesse Jewelzzz is one of South Africa's most prominent cultural documentarians. Through his lens - the world is seen as a collage of all the greatest sensory expressions. When he's not shooting or showing exhibitions, Jesse makes zines and travels the world - leaving no tangible moment unfelt or documented.
Documenting and archiving is present-work destined for the future. The sleek, futuristic design of the Nike Air Penny II, with its sculpted midsole and bold lines, remains a timeless representation of '90s basketball fashion - and this futuristic thinking is why Jesse is the perfect player for this pair. The sneaker itself is forever tied to the legacy of NBA star Anfernee "Penny" Hardaway. Originally released in 1996, the Air Penny II was the second signature shoe for Hardaway, showcasing innovative design elements that were ahead of its time. This silhouette is burned in our brains as to the power of performance-led design and the icons who wear them.