Obscure Archives | Jason Wessels
Category

Community

Date

13.10.21

Author

Jack lemkus online admin

Read Time

5 MIN
We are pretty certain Jason Wessels might have the most enviable collection of adidas sneakers in the country. As the omnichannel activation manager for adidas retail stores, he has been with the prolific brand for 17 years – and remains a true OG when it comes it to expanding and innovating the "three stripe" legacy.
As one of the largest athletic retailers and manufacturers on the planet, adidas is heavily imprinted in our cultural consciousness. The Originals Superstar gained a cult-like status when Run-DMC adopted the sneaker as their uniform in the 1980s, and were arguably the first hip-hop group to write an ode to sneaker-culture with their 1986 song "My adidas.", infamously throwing out verses like; "Me and my adidas do the illest things/ We like to stomp out pimps with diamond rings/ We slay all suckers who perpetrate/ And lay down law from state to state."
Although we will always pay Superstars their due respect, Jason's personal archive offers a distilled peek into the technical and aesthetic capability of adidas.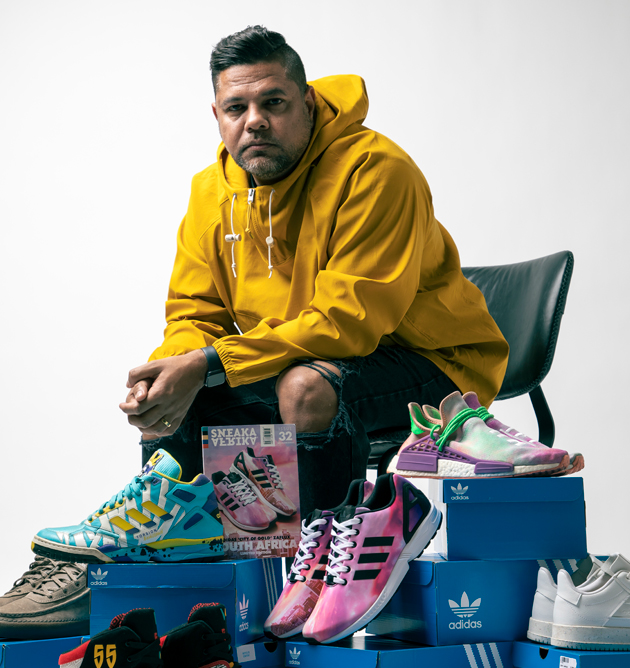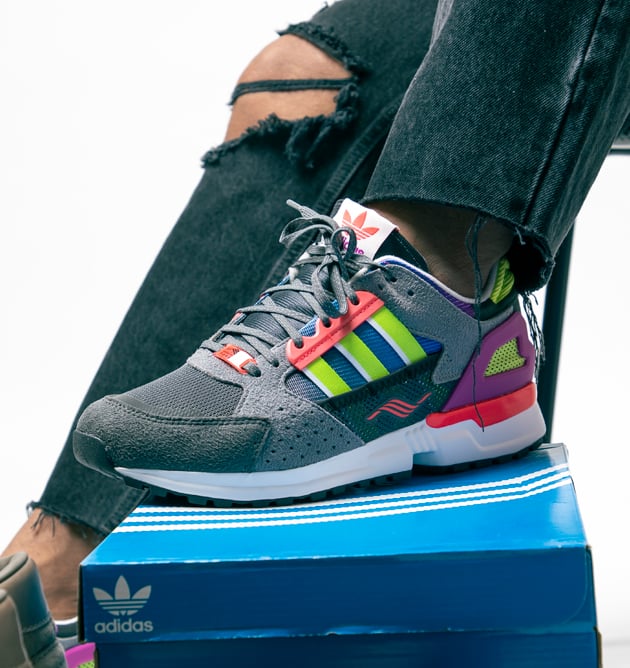 Wild Cards: adidas Artillery - By Slick / adidas Human Race NMD Pharrell Holi Festival (Samples)
adidas Artillery - By Slick: This shoe is 11 years old, and I have had for all 11 years. I don't really wear it, but the story is really great – it's a collaboration with an artist called Slick from Hawaii, who is part of a collective called the "Bomb Squad", and they are heavily influenced by Japanese culture and cartoon design and I love that about the shoe – it is completely rare.
adidas Human Race NMD Pharrell Holi Festival (Samples): I really love the colours of this pair, and I especially love that it is a sample pair – so the sole is completely different to the release pair. I am definitely a hunter when it comes to weird and different shoes, and I have access through working at the brand which is incredible.
LIMITED EDITION: adidas "city of gold" – Sneaker Freaker collab / adidas Mutambo OG
adidas "City of Gold" – Sneaker Freaker collab: This was a collab with adidas South Africa, and if I remember correctly there were only 24 pairs given to select people – so this is hugely meaningful and treasured, and ironically I wasn't on the first list to get it but I was blessed by one of our managers. It has never been worn and exists more like a symbolic object of my time at adidas South Africa. It lives in a box with its matching book.
adidas Mutambo OG: This pair is for the legendary Congolese-American basketball player from the late 80s/90s – Dikembe Mutambo – and is hugely inspired by Africa, which you can see in the prints and the logo composition. This is definitely a pair that embodies the continent, which I love.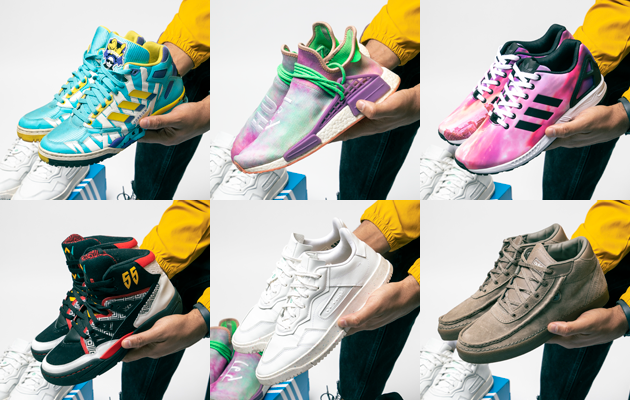 Classics: adidas super court premier - "Clean Classics" / Adidas – Albrecht Mid SPZL
adidas super court premier - Clean Classics - This is part of the Clean Classic pack, which is all about sustainability; which adidas is holding as a big focus across the entire company. The rubber is made of 90% natural rubber, 10% recycled rubber and recycled Polyester – even the box is made from up-cycled material. This pair showcases the innovation taking place, and perhaps the future we can expect for adidas.
adidas – Albrecht Mid SPZL - This a shoe that is really dear to my heart because it reminds of a Grasshopper – which is an iconic silhouette for Cape Town, and even though I am still a kid at heart, this pair makes me feel grown up!